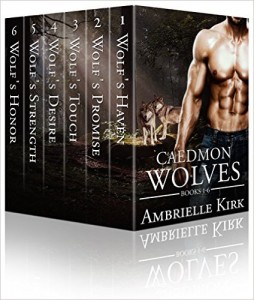 Targeted Age Group: 18+
Category: Paranormal
eBook price range: 0.99 – 4.99
About Caedmon Wolves:
CAEDMON WOLVES: THE COMPLETE COLLECTION
Special Anniversary Limited Edition ~ $0.99 Sale Promotion ~ A $15 value!
**~**Includes 6 full books in the Caedmon Wolves series. This all-inclusive bundle will only be available for a limited time!**~**
With the fate of the Caedmon Pack hanging in the balance, their leaders devise a strategy for peace and prolonged existence. One Alpha leads the pack to overcome grief and hopelessness during a time of chaos. His enemies make attempts to tear down the unity holding the pack together. Rivals infiltrate their territories and threaten to claim possession at the first sign of weakness. Many lives are destroyed in the quest for dominance and peace. The rules must evolve to fit their ever-changing society before deception, jealousy, and hatred ruin the Caedmon Pack.
This collection focuses on the Caedmon Pack Council members as they face tough choices between loyalty and true love. 6 Sexy Alpha Males and 6 Happily-Ever-Afters included.
Author's Note: These are full-length paranormal romance stories of the 1st six books in the Caedmon Wolves series.
The following titles are included:
Wolf's Haven
Wolf's Promise
Wolf's Touch
Wolf's Desire
Wolf's Strength
Wolf's Honor
Links to Purchase eBooks
Is This Book Available in Kindle Unlimited? Yes
Link To Buy Caedmon Wolves On Amazon
If you have read this book tell us what you thought!
Disclaimer: All information for this book was submitted by the author and is presented as is so you get to know the author and their style. Prices are subject to change.