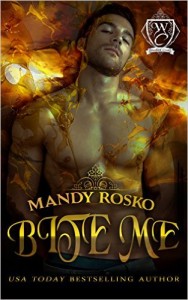 Targeted Age Group: 18+
Category: Paranormal
eBook price range: 2.99
About Bite Me (Woodland Creek):
Woodland Creek Series.
30 Authors. 30 Shifter Stories.
She always did have a sassy mouth…just his type…
Alice Grey thought life was easier when she was still a thief. As a flying squirrel shifter, it had always been as easy as gliding through some rich guy's open window and sailing away before the hounds could get a sniff of her. That was ten years ago, and she's still trying to escape her past, and the memories of the man who told her to run…
Alice is reformed now. She doesn't live that life anymore. She hadn't wanted it to begin with. Forced into it to pay her father's debts to some very bad people, she still can't live peacefully because the dog shifters, one in particular, don't know when to quit. They catch up with her in Woodland Creek, hoping to clamp their teeth down on her neck and shake her until she's dead like a real squirrel.
Jake Redfield, former undercover cop, fell in love with Alice when he met her on the job. He'd been trying to bring down her bosses at the time, and for the most part, he succeeded, but one man is out of prison, and he wants revenge as much as Jake wants to see her again. Wants to touch her and kiss her. Keep her safe.
As a diamondback rattlesnake shifter, his venom can be deadly, and anyone who tries to hurt his Alice is just begging to be bitten…
Links to Purchase eBooks
Link To Buy Bite Me (Woodland Creek) On Amazon
If you have read this book tell us what you thought!
Disclaimer: All information for this book was submitted by the author and is presented as is so you get to know the author and their style. Prices are subject to change.